About Crownwell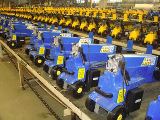 Crown Well China Co., Ltd. is a professional supplier of wood and garden marchine from Shanghai, China. We focus on special markets of wood and garden machine such as all kinds of log splitter, log saw, mini dumper, lawn mower, snow thrower, Golf Cart, etc.
When Crown Well primarily operated in abroad, we were lead by a comprehensive team of experienced professionals, ensuring American and European levels of product quality and service quality to all our customers for the best prices possible in today's world economy. We will complete our mission of profit maximization and risk minimization on behalf of our clients.
What Our Clients Say
From My first inquiry, you understood well what we wanted. We are really impressed by Crown Well's professional and perfect service. Unparalleled!
I have worked with Crown Well for 3 years. Awesome experience! You treat our orders so carefully each time.
Very reponsive,great customer service,and amazing work. Always a joy working with Crown Well.
Thank you guys so much! Your team really came through and saved the day.
Feature Products
Do you have a big idea we can help with? Leave us an message with email.